Thank you so much for considering a donation to our society! The Pike County Missouri Genealogical Society & Jail Museum is a 501(c) Non-Profit organization and all donations are tax deductable. As we operate soley on donations and memberships any an all donation amounts are extremely appreciated.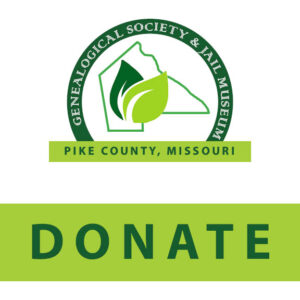 Donations can be made online or by mail:
Download the Membership/Donation Form and mail to/checks payable to: Pike County Genealogical Society & Jail Museum, 5 East Church St., Bowling Green, MO 63334
Become a member today! Learn more here >>>
We also gladly accept donations of Pike County Historical items and more that can be added to our library and museum!
Thank you to our donors:
*Coming soon!*