Quilt Raffle – Christmas in the Green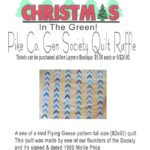 We are raffling off a one of a kind Flying Geese pattern 82×92 full size quilt! It was hand made by Mollie Price in 1989. Mollie was one of the founders of our organization and the pictures do not do it beauty and justice!
Get your tickets at Ann Layne Boutique: $5.00 each or $20 for 5! Winner will be drawn at the end of the Christmas in the Green event! For questions call us at 573-324-5810.