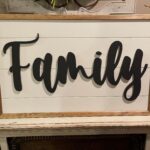 The Pike County Genealogical Society & Jail Museum is hosting a Raffle Fundraiser! This beautiful "Family" sign was hand made and graciously donated by our local Hillary Hakenwerth! This raffle will end on March 22nd so get your tickets now!
1 ticket for $5
5 tickets for $20
OR (THE BEST DEAL) 8 tickets for your $20 Memership!
You can purchase your tickets at Ann Layne Boutique during their business hours, at the Pike County Genealogical Society on Thursdays from 1-4pm, OR you can start your membership online today and we will fill out your raffle tickets for you! Membership is only $20 per year, no commitments! Along with your membership you will also receive our ECHO newsletter as well as get assistance with your own geneology!
After 10 years of leasing at no cost to us, our society has been graciously donated our building, museum and the property they sit on by the Pike County Commissioners. We are extremely excited for this new adventure but also are aware that it will come with additional expenses so we hope you will consider helping us keep our doors open! You can help us by:
Buying raffle tickets during our fundraiser
Becoming a Member for $20 Annually or $175 for a lifetime membership
Making a donation – that can be made in memory of someone special, and we will honor that memorial in our museum and on our website!
*Any donations of $1,000 or more will be recognized within our museum, on our website, and the donors will receive a special certificate to display their amazing support!
Thank you for visiting us today! We hope to get to know you soon!